Some of my favorite and most frequently used features that are available on Z Automotive's Tazer JL programmer are start/stop kill, in motion navigation access (for my passenger to use) and on-demand backup camera activation by double tapping the audio mute button. Another feature that I initially thought would be useless, the light show, is actually pretty fun at times. The light show can be accessed using your fob while you are out of the vehicle. To take advantage of any of the aforementioned features, the Tazer JL programmer must be plugged into the OBD2 port. Rather than continuously connecting and disconnecting the programmer, I opted to keep it connected at all times. I did not, however, want to keep it in the stock OBD2 port location. I like to run doorless and wanted to keep the programmer out of sight, diminishing the potential for theft. I also wanted to avoid catching the programmer with my big klutzy legs and feet while entering and exiting the vehicle. To accomplish my needs I used a 1 foot OBD2 extension cable and a bit of Velcro to keep the programmer tucked up and under the kick panel.
Cable used -
iKKEGOL 1ft Feet 30cm/12" OBD II OBD2 16 Pin Male to Female Extension Cable
Tazer JL programmer and cable -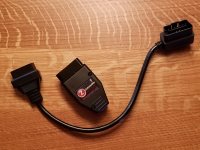 Velcro attached to backside of Tazer JL -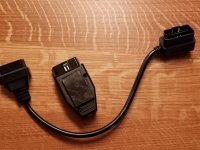 Extender cable attached to OBD2 port. What I like about this setup is that the cable exits on the left side, diminishing the potential for catching on your left foot. This may be particularly useful while using a clutch -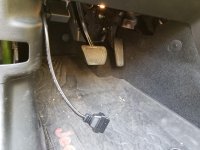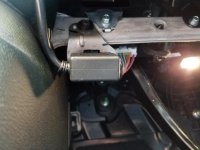 A couple of upskirt photos so you can see where I mounted the programmer on the backside of the kick panel -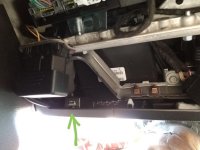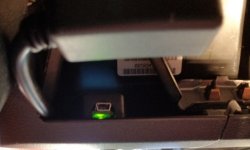 I've been running the Tazer JL in this configuration without issues and can recommend the Tazer JL programmer by Z Automotive, as well as the extender cord adapter posted in the link above.
Last edited: